We are very pleased that LightnTec can now fully conquer the market with an European tailwind and wish them every success!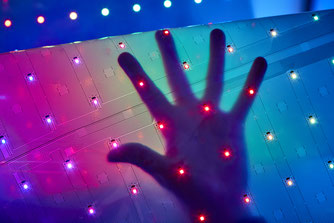 LightnTec was founded in early 2016 and is headquartered in Karlsruhe. Using sensor-controlled, intelligent, flexible, rollable, cuttable, thin and ultra-lightweight light foils, LightnTec unleashes the power of seamless integration of advertising, lighting and room designs in real time - "AI Light 2.0". LightnTec digitises rooms that actively guide, inform and entertain.

With "Digital Wallpaper", LightnTec has developed a unique video-controlled light foil. With this intelligent material, LightnTec closes the gap between analogue lighting solutions and high-resolution displays. The technology offers broad application potential in the fields of AV display, lighting and human-centric lighting as well as for the digital dynamisation of surfaces on ceilings, walls or facades.
"Only a very small group of SME companies with excellently rated projects will receive funding from the Horizon 2020 programme, and we are proud that our disruptive innovation was successful. This makes LightnTec part of the Champions League of the European start-up scene", says a delighted Florian Kall, Managing Director and founder of LightnTec.
---
"We are grateful for the competent and cooperative partnership between LightnTec and EurA, which led to this successful application."
Florian Kall and Lutz Nehrhoff from Holderberg
---
Managing Director Lutz Nehrhoff von Holderberg: "Development will be driven forward"
 "Following this welcome decision, we have a tight work programme ahead of us. Our first important goal is to ensure a homogeneous filling factor of the individual light points on a rollable film. This will make additional applications possible and the addressable market even larger. Numerous international customers and partners already trust our technology", explains Lutz Nehrhoff von Holderberg, Managing Director and Co-Founder of LightnTec.

Chairman of the Advisory Board Günther Steffen: "We are delighted with the recognition from Brussels".
 "We were very pleased with the decision of the European Commission. It allows LightnTec to complete its innovations, scale up production and initiate broad-based marketing. For the investors, High-Tech Gründerfonds (www.HTGF.de) from Bonn and BORN2GROW-Seedfonds (www.Born2Grow.de) from Heilbronn, the EU's decision is also strong proof of LightnTec's exceptional technology," says Günter Steffen, Chairman of the LightnTec Advisory Board.
---
Do you need help in preparing an application or would you like to know whether the SME instrument is right for you? Then get in touch with us!

---