The first call for 2023 has once again shown that the European Innovation Council's (EIC) funding programme for highly innovative start-ups and SMEs has not lost any of its popularity. The EIC received a whopping 476 applications for the call, which closes on the 11th of January 2023. According to the EIC's official statement, the mixed funding model was particularly popular. A total of 290 companies - or around 61% of all applicants - applied for a combination of funding and equity participation. 80 applicants requested only funding for their leading-edge technology project and 103 companies initially requested only grant funding with the prospect of equity participation at a later stage.
14% of the applications came from companies with female directors. In total, there were applications from 30 different countries. Leading the pack was Israel as Associate Partner with 65 applications, followed by Germany with 56, France with 46 and Italy with 33. The newer EU member states also participated in the first EIC Accelerator call in 2023 with 57 applications.
Applications are currently being screened and evaluated by independent experts. The most promising applicants will be invited to an interview, where the highly innovative project proposal will be presented to an independent jury and the applicants will face questions. The jury is made up of experienced investors and entrepreneurs. The selection of projects to be funded is expected to be completed in April.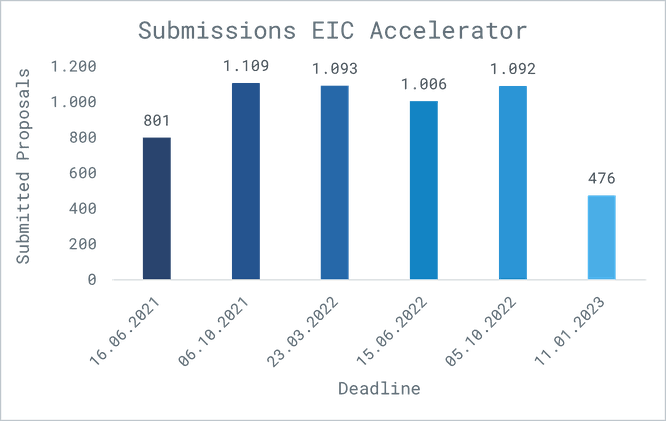 ---
Your chance in 2023 - funding opportunities
Following the first open call for the EIC Accelerator, more will follow this year. The Accelerator has a total budget of €1.13 billion, which will be awarded in the form of grants of up to €2.5 million and equity investments of between €0.5 and €15 million.
Highly innovative start-ups as well as small and medium-sized enterprises can apply for funding through the EIC platform at any time. The application process consists of several steps. The first step is to submit a video and a presentation and to answer short questions about the innovation and the team composition. A response is expected within four weeks. The next step is a full application. The deadlines for submissions are
the 22nd of March 2023
the 7th of June 2023 or
the 4th of October 2023.
---
Are you interested in the EIC Accelerator and would like to find out more?
Or are you already in the middle of the process and looking for concrete support with your application? Feel free to contact us.
---